Pyrography or woodburning, is an art medium rapidly gaining popularity especially in the United States and United Kingdom. This art medium involves the use of a heating device that resembles a large pen, which, when applied to wood surfaces, leaves distinctive burn marks. There are already many professional pyrography artists around and most of their work is truly astounding – many even life-like especially when a touch of color is added.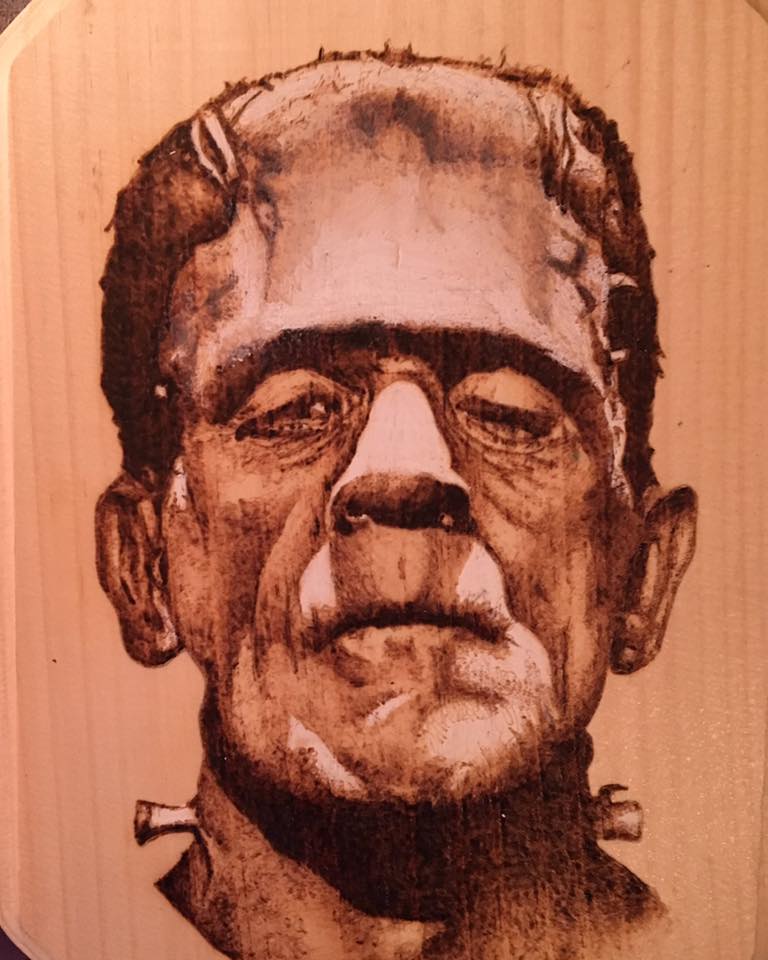 As more and more budding artists join the pyrography band wagon, many do not know what to start off with or know about the differences among the many pens sold out there. This then poses a problem for many who nevertheless went ahead, bought a pen (usually convinced by online reviews) and are either stuck on how to use them properly or end up destroying the tool altogether. To address that and a few other key issues, let's compare the two types of pyrography pens, the solid-point burners and the wire-nib burners.
Tip / Nib
Solid-point burner – This type of pen usually requires a screw-in tip although some very few designs in the market feature non-screw tips held in place by a sleeve and a nut. Care should be taken when purchasing extra tips as they can vary in thread type. TRUArt pyrography pens use M4 X 0.7 tips. This means that the thread is 4 mm in diameter with a 0.7 mm thread pitch. These tips are screwed in tightly by hand and usually finished off with 1/8th to 1/4 of a turn using a pair of pliers.
Wire-nib burner – This type of pen holds wire tips usually made from Ni-chrome wire of varying gauges. The wires are either inserted into collets or held in place by screws tightened unto them. TRUArt's 60 W Professional Woodburning Detailer can accept 20 to 16 GA wire tips.
Heat transfer
Solid-point burners create heat by means of a heating element within the pen that is then transferred to the tip and operate at a fixed temperature.
Wire-nib burners create heat on the nibs by electric current going through it. The collets or wire nib holders should never be shorted.
| | |
| --- | --- |
| Solid-point burner | Wire-nib burner |
Cheaper than Wire-nib burners

Wide selection of patterned and stamp tips

Brass tips conducts heat faster and retains it longer than other metals

Easy screw-in and unscrewing of tips (only do this when unit is cold!)

Variable heat output (TRUArt 15 W – 30 W pens)

Ergonomic handle with anti-slip rubber

Ventilation holes and double heat sinks to dissipate heat away from hands

Price is great for beginners in pyrography

No separate power supply

No danger of shorting out the pen

Brass becomes soft when heated. Oftentimes, beginners tend to put too much pressure on it instead of letting the heat do the work. This bends the softened brass tip, which leads to breakage – leaving the screw inside the pen and rendering it useless.

Long waiting period for hot tips to cool down enough for unscrewing/replacement

Long waiting period (3-5 mins) for tips to heat up sufficiently

Only two power settings – 15 Watts and 30 Watts

Cannot create customized tips

Hands are farther away from work surface than Wire-nib burners

Tips may become lose within pen when heated. This will require further tightening with pliers (about 1/8 to 1/4 of a turn)

Nibs heat up much faster (less than 1 minute) than Solid-point tips

Fast cool-down

Easy inserting and removal of nibs

Nibs stay tight inside collets even at the pen's highest voltage setting

Wide selection of nib shapes and sizes

Easily create customized nibs from a roll of Ni-chrome wire

Very close distance between hand and work surface

Digital power supply allows very fine tuning of heat output on the tips, which allows for superior control over burn

Pen is smaller and lighter than Solid-point burners

Non-slip ribber handles

Can accept 20 GA to 16 GA (0.8 mm to 1.25 mm diameter) nibs

Ni-chrome wire nibs do not break easily when pressure is applied

Preferred by professionals

More expensive than Solid-point burners

Nib selection does not have big patterns or stamps like the Solid-point burner tips

Bulky power supply

Burner can get almost uncomfortably hot if voltage is too high and heat on the nib is not used fast enough

Danger of shortening the burner if the collets are directly connected to each other by any metal object

Skill in using voltage setting to get the required heat has to be developed
Ultimately, when selecting a woodburning or pyrography pen, you will first have to consider what you intend to do. Figure out if you could see yourself doing this occasionally or often. If you're just starting out in the art of pyrography and do not know what kind of pyrography pen will suit you, you're safe if you start with the Solid-point burner. Later on, once you're more confident in the art and start investing long hours into it, you may want to consider upgrading to the more robust and industrial strength of the Wire-nib burner.
If you still want to know more, simply share your thoughts or questions through the comments below and we'll answer them within the day.