Who is TRUArt?
We are a small family-owned company located right outside Austin, TX. We started TRUArt in 2015.
What are your shipping options?
All items are shipped from the United States. We offer FREE STANDARD SHIPPING (3-7 days) on all orders within the United States of America (including Alaska, Hawaii, and Puerto Rico). You can request express delivery at checkout for an additional fee.  We ship internationally and quote international shipping on a case-by-case basis. For an international shipping quote please contact us.
Any affordable shipping options to Canada?
We have a shipping option to Canada during checkout on our website. If you prefer to shop on Amazon, we have TRUArt store on Amazon.com, and Amazon Logistics may offer a more affordable shipping rate – please check it out.
How do I return my items?
You can return your item for any reason within 30 days. Please read more about the warranty/return policy here.
I sent you a message and never heard back.
Please check your spam folder. We always respond to all emails, voicemails, and text messages. Gmail and Yahoo almost always mark emails from hello@truart.co as Spam. Please add hello@truart.co to your Contacts (Address Book) to avoid any missed email replies.
How do I know which woodburner is right for my needs?
Please check out our videos – this is a good way to determine which burner is right for your needs.
I just received my new 60W pen kit and noticed that the voltmeter registers "6" from the lowest setting until I turn the knob up to the halfway mark. Once the machine is cranked up halfway, the meter reads about 30 volts… then drops back down to 6 if I turn the knob slightly past the halfway point.
Let's calibrate your unit. Please make sure that the initial reading (zero-in voltage) is set to around 20V. Adjusting the fine-tuning pot (refer to the image below): I adjusted the unit to make sure that it is set to around 20V at its lowest setting. This is the optimal tune-up for the unit.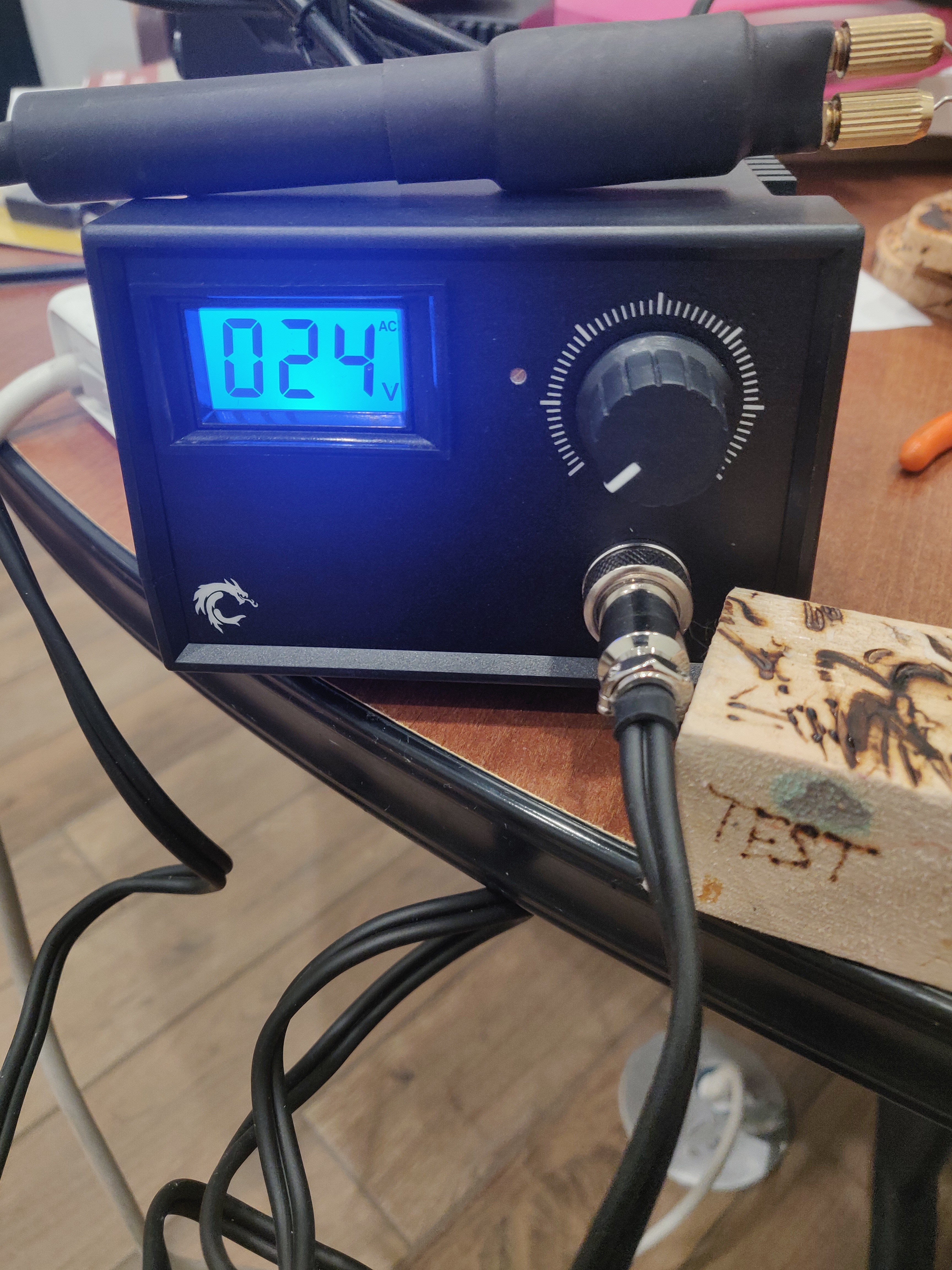 You can find more information on how to adjust the fine-tuning pot in your User Manual (page 6, paragraph #14). In case you have an outdated manual, you can download the most up-to-date version through this link.
Manual exerpt: "If necessary, use the Voltage Fine-Tuning Pot (#13) to fine-tune the voltage regulator – with the help of a small flat-head screwdriver – for optimal use with your mains electricity. A typical case is when the voltage is too high on the lowest setting or too low on the highest setting."
I owned multiple similar burners, including walnut hollow, weller, and others. In each thread would break inside. Does the TRUArt Stage 1 30W  pen hold up?
All soldering-iron type of wood burners use tips made of brass to get superior heat conductivity. But this has a downside – brass is a soft metal and can be bent easily when hot. This is a trade-off for this technology. On one hand, you have a simple replaceable screw-in tips design, on the other hand, you have to be very careful to not put too much pressure on it on the 30W setting. Always keep in mind, that you should not press hard on the tip and instead either switch to a higher setting or slow down if you are already in a high setting. In any case, if you experience issues in the future with our product, even if it is a non-warranty issue, please feel free to drop a line at hello@truart.co and we will do everything to keep you satisfied. Also, this unit is covered by a 1-year warranty, so if any defect is discovered during the whole year after purchase (and even after the first year), we will do everything to get you back to your project.
Why don't the tips for my TRUArt Stage 1 30W pen go in?
Are the tips you're using bought with the pen or separately? The tips I have screw in which means you have to wait until the "pen" cools down before changing. If you use pliers to change tips, you are more apt to damage the tips and/or pen as the metal expands as it is heated and becomes more pliable which would change the structure of the tip and/or inside of the pen. If you bought the set separately, different companies may have made the tips larger/smaller than your pen. Even "universal" items are not compatible with all machines.
What is the highest temperature it can reach for my TRUArt Stage 1 30W pen?
In the 30Wsetting, it can go up to about 850 Fo (454.44 Co)
Can your Stage 2 variable output voltage unit run on 240v input or is it just 110v?
All of our 60W woodburners run on 110V. This means that if the electricity in your area is 220V, you would need to have a step-down power converter that converts your area's electricity to 110V. However, with some tweaking of the voltage adjustment knob, you can use it directly plugged into your 220V outlet (see PDF on how to do this). We would like to clarify that we cannot warranty any issues that may arise from using the said wood burners on voltages higher than 110V.
 I noticed when I started it up that the lowest voltage setting was at 6 and the highest voltage setting was at 107. When I turned the voltage dial halfway it reads 35. I feel the burner is not producing consistent heat. There is no buzzing coming from the unit. I tried to fine-tune the unit by setting the lowest setting to 20 but it still only displays 35 when the dial is turned halfway and still reads 107 at the highest setting. How can this be fixed?
Please try to set the initial setting to 30V. I have the minimum setting set to 30V on my unit since I do not burn on leather and as far as wood is concerned, especially softwood, you will see the slightest shade come out at around 40-45V. Regarding inconsistent heat, could you perhaps record a short video to demonstrate it? Another question is regarding the type of wood you are burning. Are you using pine by any chance? It is a very common type of wood used for woodburning, but it is also a tricky type of wood. Pine has two types of grain – one that is very soft and another one that is very dense. If it is cut parallel to the grain, you will get a large area of very soft grain as well as a large area of the dense grain. Both react very differently to the same voltage setting. Please see this short video clip for more clarity.